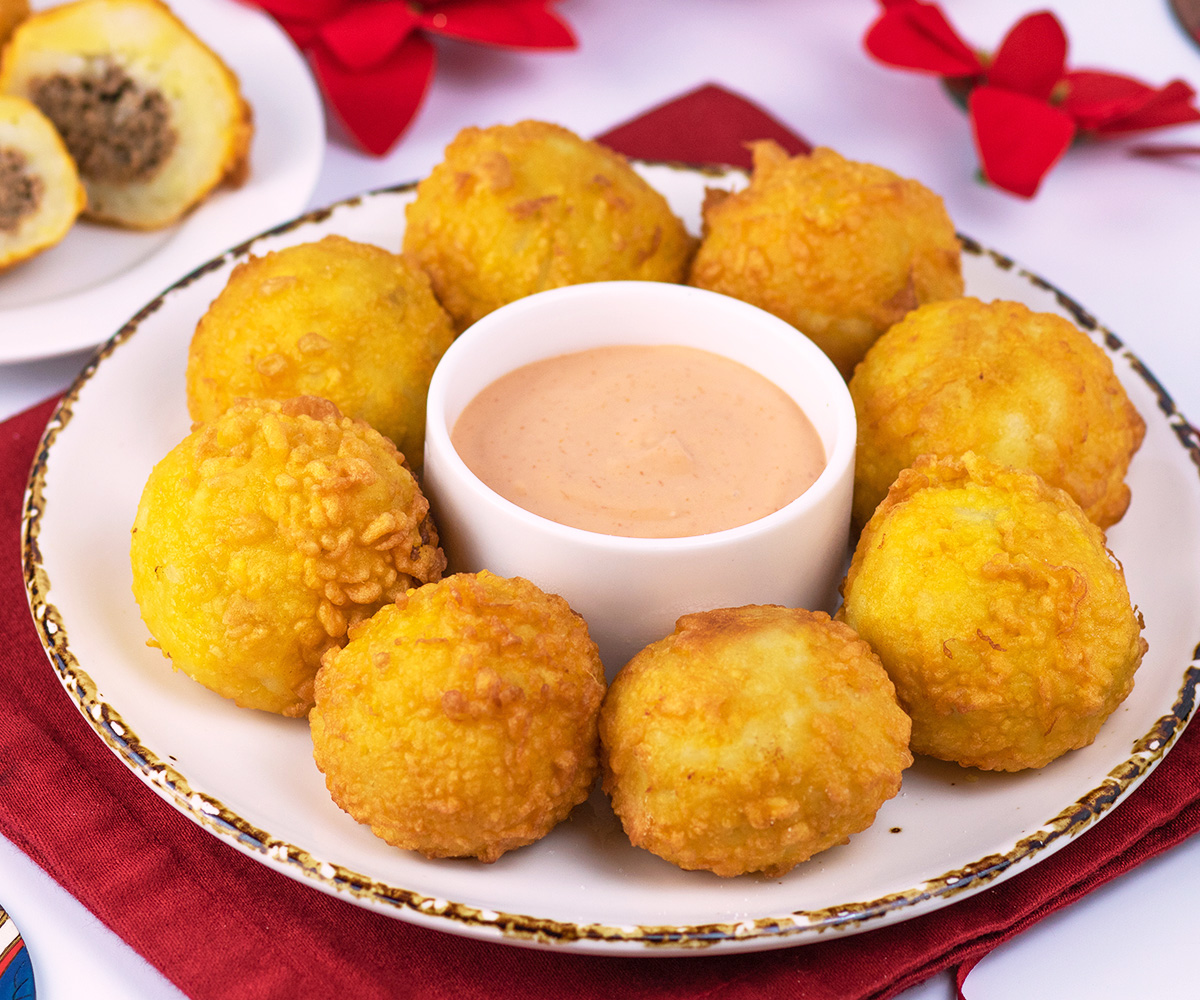 Ingredients
MEAT STUFFING
¼

cup

olive oil with achiote

1

cup

of chopped tomato

¼

cup

sofrito

1

tsp.

minced or crushed garlic

½

tsp.

ground cumin

½

pound

ground beef

Salt to taste
FLOUR MIX
1

raw egg

¼

cup

all-purpose flour

1

tbsp.

oil with achiote

¼

cup

fresh milk

salt to taste

4

cups

oil for frying
Instructions
Bake the potatoes ahead of time and let cool. Then remove the skins from the potatoes, mash the potatoes, season and set aside.

Prepare the meat filling. In a medium saucepan add the

olive oil with achiote, heat, add the tomato, sofrito, garlic, cumin, and cook for several minutes. Add the meat and sauté for 5-8 minutes or until golden brown and season to taste.

Prepare the flour mixture: In a container add the egg, wheat flour, oil with achiote, milk and salt to taste. Mix until combined and set aside.

Prepare the fillings: Divide the mashed potatoes into 10-12 portions. With each portion of mashed potato, form a ball between the palms of your hands. Flatten and place a tablespoon of the filling in the center of the dough and close the potato dough into a ball covering all the filling with the mashed potatoes. Repeat with each serving until done. Set aside.

In a deep frying pan add oil to fry and heat to 350 degrees.

Pass the stuffed potatoes in wheat flour. Then dip each potato filling in the flour mixture, drain and fry until golden brown. Place on absorbent paper.

Serve immediately and accompany with your favorite sauce.