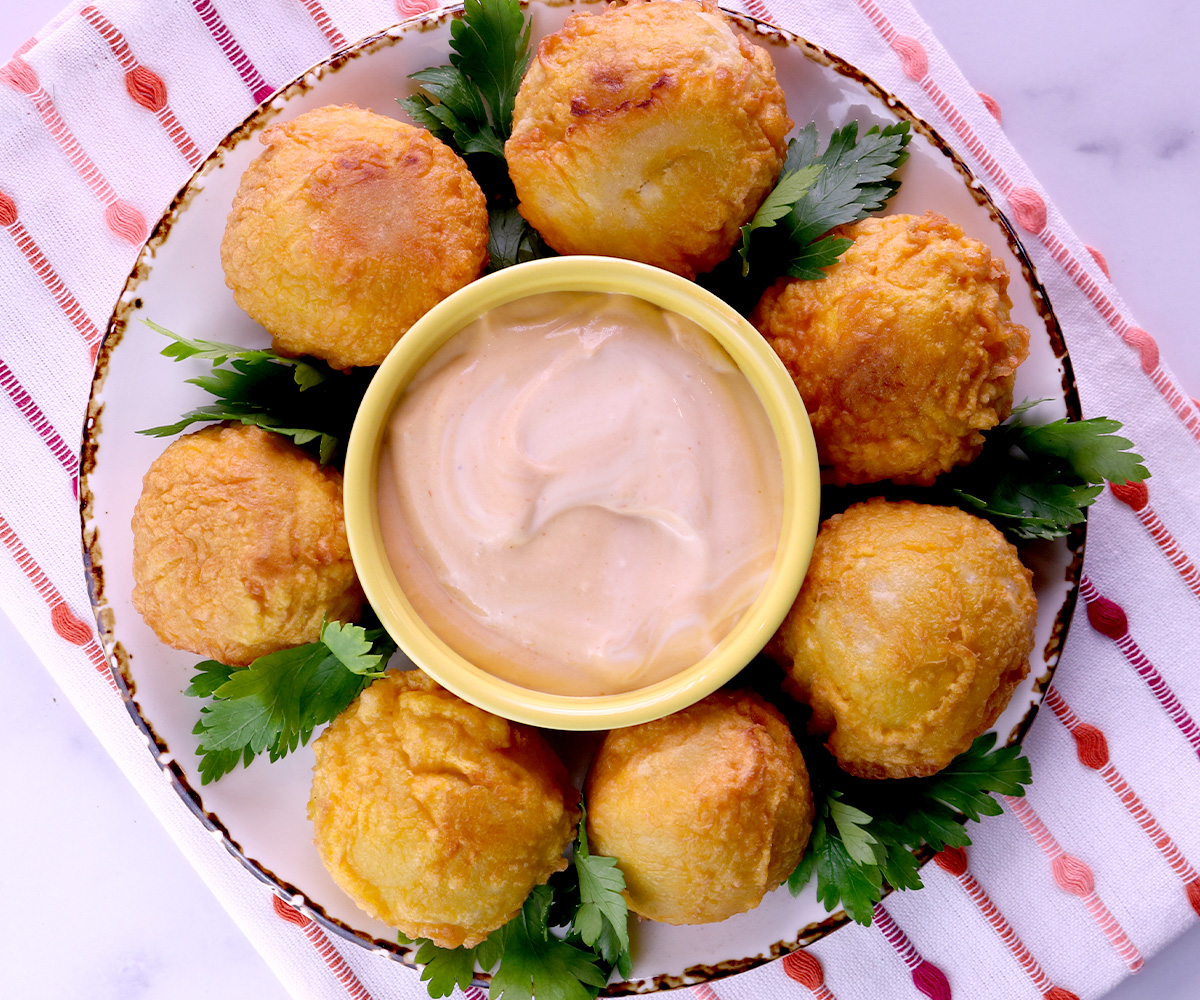 Ingredients
CORNED BEEF MIXTURE
1

can 10 oz. corned beef

2

tbsp.

olive oil

¼

cup

stir fry

¼

cup

tomato sauce

¼

cup

each onion

(green and red bell pepper minced)

¼

cup

chopped fresh cilantro
FLOUR MIX
1

raw egg

¼

cup

of wheat flour

1

tbsp.

oil with achiote

¼

cup

fresh milk

Salt to taste

4

cups

oil for frying
Instructions
Peel the corduroy, remove the center of the corduroy. Cook in salted water to taste for 10-15. Drain and mash the corduroy. Leave apart.

Prepare the corned beef: In a frying pan add the olive oil, sauce, onion, peppers and sauté for 2-3 minutes. Add the corned beef, tomato sauce and cilantro and cook for 2-3 minutes. Set aside until cool.

Prepare the flour mixture: In a container add the egg, wheat flour, oil with achiote, milk and salt to taste. Mix until combined and set aside.

Prepare the fillings: Divide the mashed corduroy into 10-12 portions. With each portion of mashed potato, form a ball between the palms of your hands. Flatten and place a tablespoon of the filling in the center of the dough and close the potato dough forming a ball, covering the entire filling with the mashed potatoes. Repeat the procedure with each portion until finished. Leave apart.

In a deep skillet pour oil for frying and heat to 350 degrees.

Pass the corduroy fillings through wheat flour. Then dip each potato filling in the flour mixture, drain and fry until golden brown.

Place on absorbent paper.

Serve immediately and accompany with your favorite sauce.

NOTE: You can substitute the vegetables and use 1/3 cup sofrito.