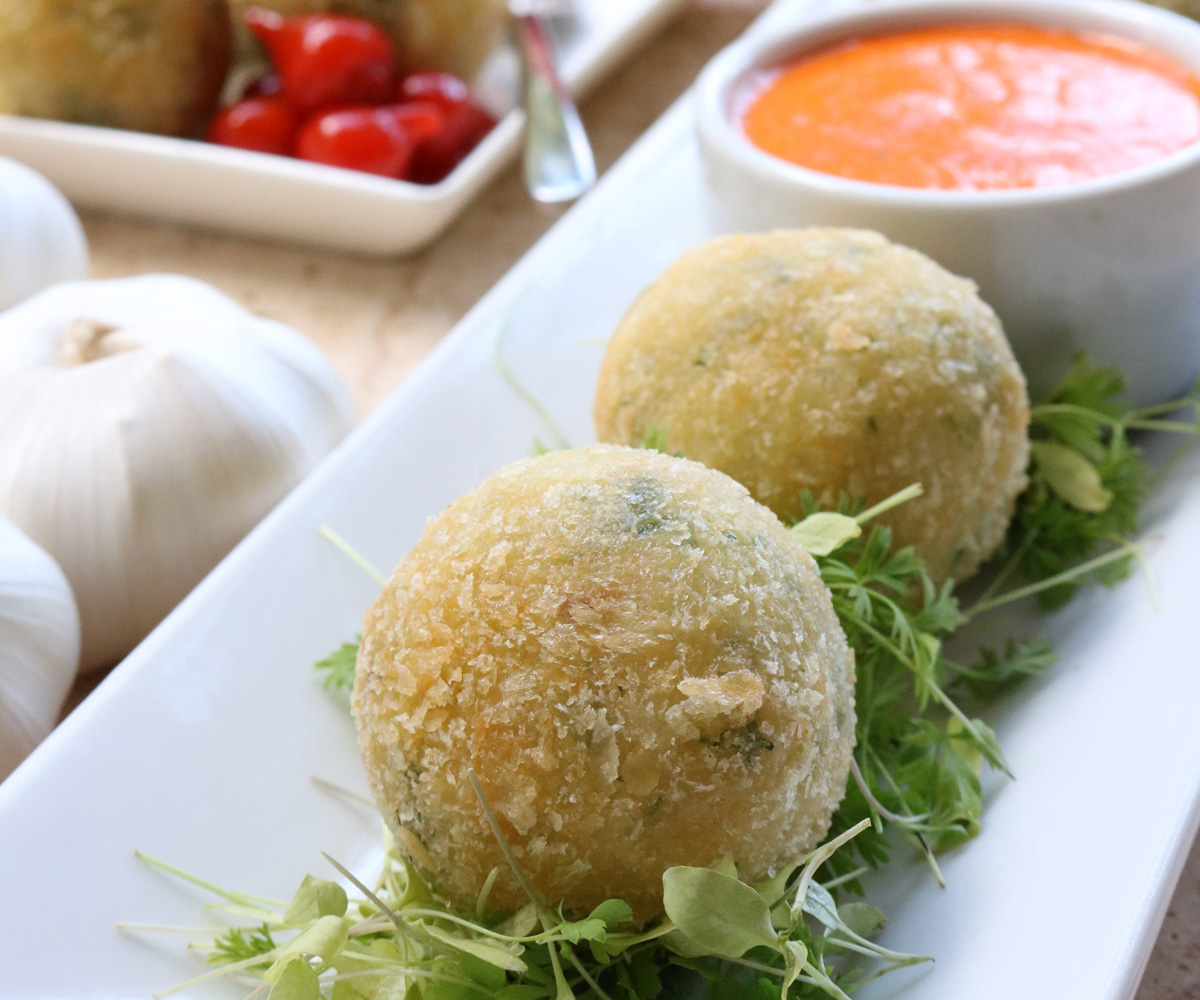 Ingredients
CROQUETTES
½

lb.

arborio rice

2

tbsp.

olive oil

2

tbsp.

Butter

1/2

cup

onion

1/2

cup

bell pepper

(minced)

1

garlic clove minced

8

oz.

desalted and boiled cod

½

cup

white wine

¼

cup

heavy cream

1

cup

chicken broth

1

tbsp.

parsley

2

tbsp.

Parmesan
BREADING
1/2

cup

wheat flour

4

eggs

1

cup

panko
MORRON PEPPER AND PARMESAN SAUCE
¼

cup

olive oil

2

garlic cloves minced

½

cup

onion

(minced)

½

cup

bell pepper

(minced)

1

tbsp.

wheat flour

½

cup

milk

2

tbsp.

grated parmesan cheese

Salt to taste
Instructions
Make the sauce. In a frying pan, add the olive oil, heat, add the garlic, onion, bell pepper and cook for 2-3 minutes. Add the wheat flour and then add the milk little by little, Parmesan cheese and salt to taste. Cook for several minutes until thick. Let cool, go through the food processor and set aside.

Prepare the risotto. In a saucepan, add the butter, olive oil, heat, add the onion and garlic. Cook over medium heat until golden brown. Add the boiled and shredded cod and sauté for several minutes. Add the arborio, half the broth, cream, white wine and cook over medium heat for 15 minutes. Add the rest of the broth and parsley, Parmesan cheese and cook for 15 minutes. Let it cool. Leave in the refrigerator for several hours.

Take the mixture by tablespoons and form the croquettes (in the form of balls). Go through wheat flour, then egg and then cover with panko.

Leave in the refrigerator or freezer until it's time to cook.

Fry in corn oil until golden brown. Serve with the Bell Pepper and Parmesan Sauce.