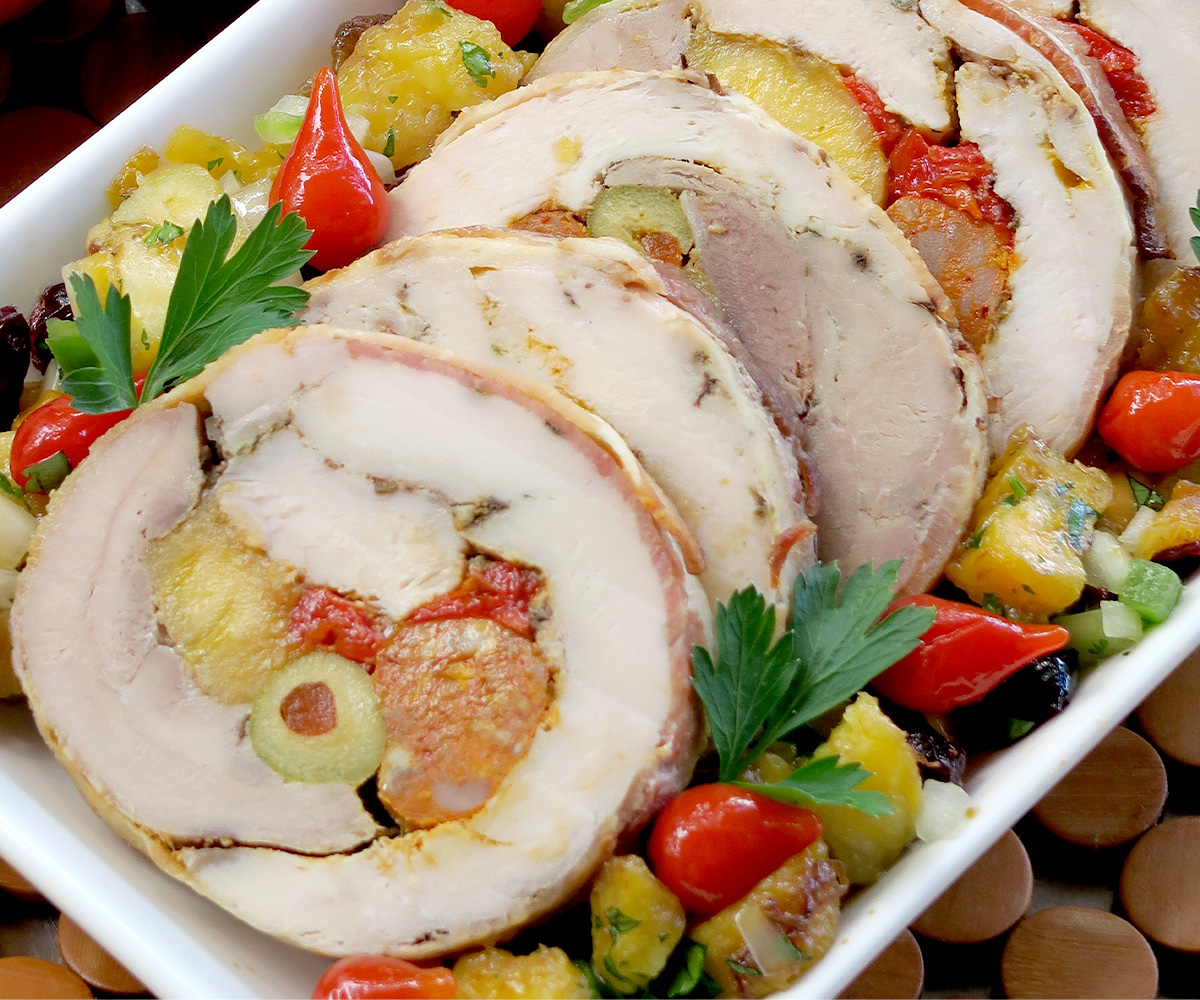 Ingredients
4

lbs.

turkey breast fillet

2

lbs.

turkey hip fillet

Marinade: 1 tbsp. salt

(2 tbsp. crushed garlic,)

2

tsp.

Fresh oregano

(1/4 tsp. black pepper (optional))

¼

cup

olive oil

3

cooked pork or turkey sausages

20

stuffed olives

1

lb.

fried ripe plantain

8

oz.

bell pepper

(minced)

12

slices

of bacon
Instructions
In a small container mix all the marinade ingredients and set aside. Lay the turkey breast fillets on a flat surface and cover with plastic wrap. With the help of a flat pot, flatten the breast fillets (without breaking them) by tapping until smooth and fine. Repeat for the hip fillets. Then marinate the breast and hip fillets.

Use a sheet of thick aluminum foil. Grease the sheet of aluminum foil and lay the bacon side by side to form a surface. On the bacon, place the breasts next to each other as well as the hip fillets, forming a surface that covers the entire bacon. Then place the longanizas side by side, the olives, ripe and bell pepper. With the help of the aluminum foil, roll it up carefully, squeezing and rolling it into a large roll. Wrap with the aluminum foil and re-roll with another sheet of aluminum foil.

Heat the oven to 350 degrees. Place the roll on a baking sheet with a grill.

Bake for 1 ½ hour. Let cool and then remove the aluminum foil. Return to the grill pan and cook for 15 minutes until the bacon is golden brown. Chill for at least ½ hour then slice and serve with your favorite sauce.

NOTE: This recipe can be prepared in smaller portions, using the same ingredients you can make rolls with turkey cuts from 1/2 to 1 lb. and enjoy this recipe. Ideal for small families.